This introduction is now knocking on somewhat, so just tap on the tabs to find out more.
Let's see here… stats: 5'6"… slim build… size 7 feet… Very Well Educated… gorgeous looking… talk-a-holic… and madly great humour! I think that's it for stats, and I'm from West Yorkshire.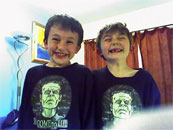 I have two most wonderful sons, obviously they are quite abit older than this older photo shows, they are my treasure and world, they're nicely crazy, and as you can see from the photos they are both very good looking (mmm, possibly a bit like me!). I attended Woodend First School, Windhill Church First School, and then Windhill C of E First School, Wycliffe Middle School and finally Nab Wood Grammar, yes a few schools but lots of changes to the education system were happening… I think that's the excuse!

My favorite bands and heroes; Zep, Hendrix, AC/DC, Cream (too many to mention but I think you get the drift) up to some other stuff, Coldplay, Franz Ferdinand, Kaiser Chiefs, James Blunt (I know, I know!), and many more that I haven't got a clue what they're all called but sound good.
I've been playing the guitar since 1982, singing (shouting!) since 1990 and playing bass since 2003, I've only got to learn the drums and then I can be a proper one man band! For more information on my life please check out the tabs… Oh, I also live with sarcoidosis and mental health issues.