It started in 1986
You ever get the feeling that you need to be together forever? It happened for me in early 1986, the most perfect of shapes in that 1976 Gibson Les Paul Deluxe jumped out at me. Though worn on the edges the polishing still brings a fantastic glee to the surfaces.
Only on Saturday 26th Feb 2011 did the glow return, my eldest son Jacob suggested that it is about time to get some life back into the heavy solid body instrument…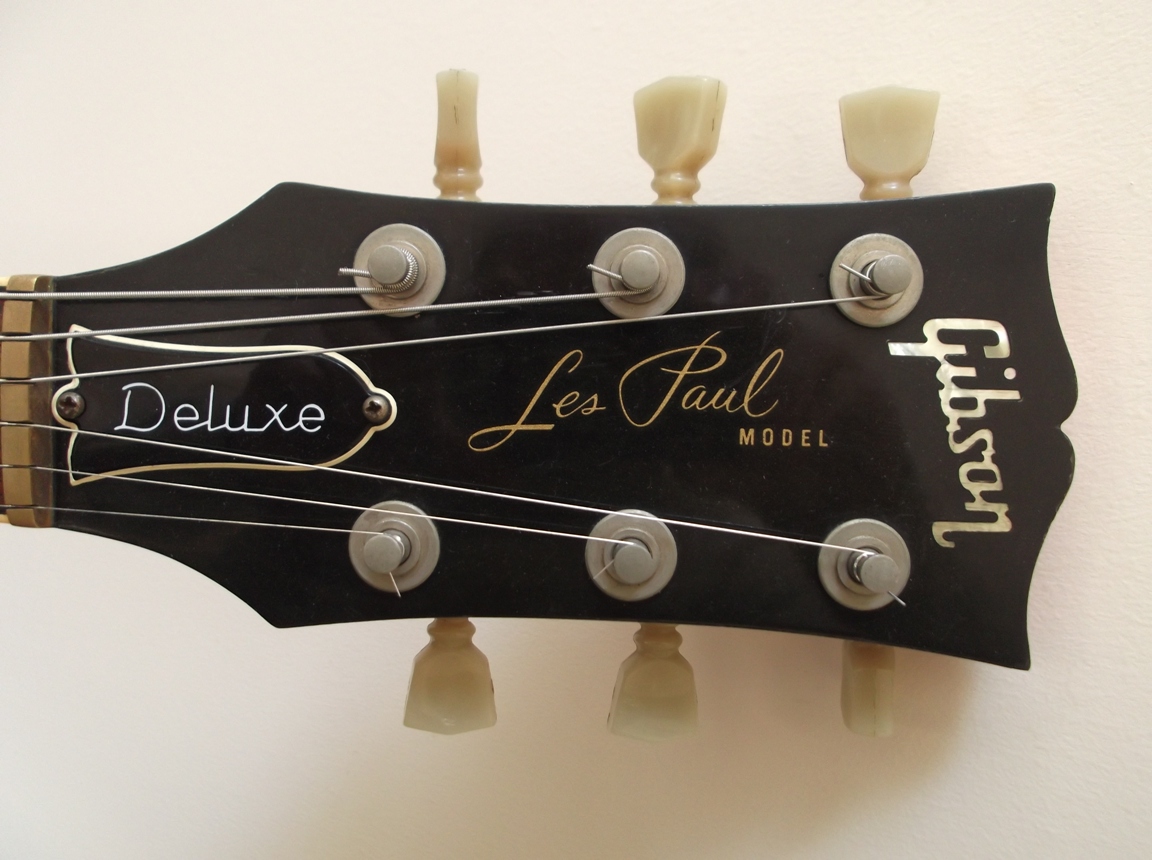 And so my Les Paul.
£450.00 later and arriving back at my parents I laid down the case and opened it up – gorgeous was my complete understatement, founding some kind of true meaning, and so gently lifting out of the case I used my fingertips to feel throughout the body.
Just as I started to reach around the rear I realised something just wasn't correct? Some roughness I could feel without any doubts, turning the solid body around – and to my distress – scratches were all over the rear upper body, cheated was my complete thoughts.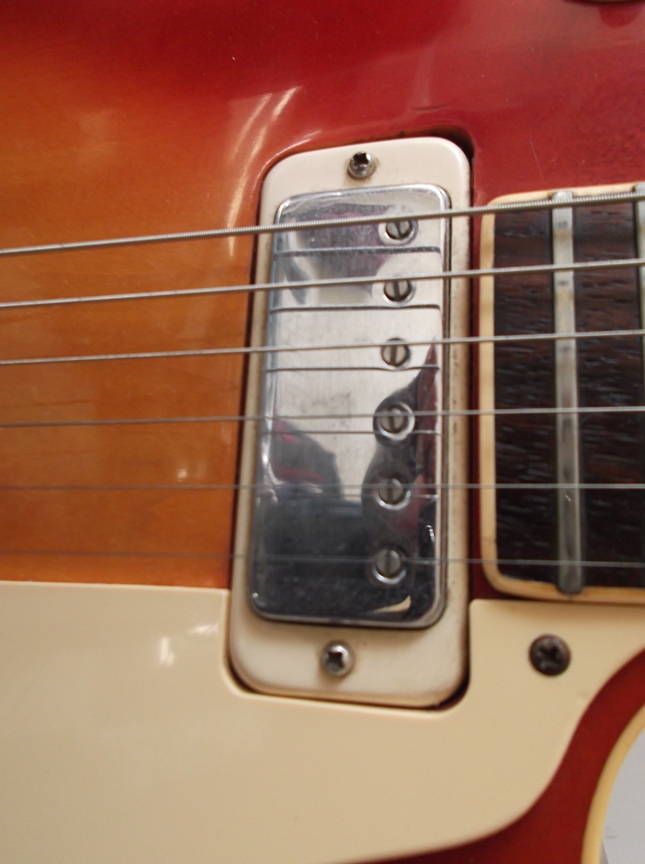 Accelerating – and pretty fast as I got closer – to the phone, I made a very nervous call, "Hello, I have just bought 'yes the' yes I have got home and the scratches are so deep on the upper rear 'we give it a real good cleaning, 1976 was a special year you know' oh, ok then – erm, second hand it is then? 'Yes' bye"
Hmmm – £450 in 1986 – hmmm, the decision was to learn much more of how this could be used…
Yes 1986 and after a few months I was actually pretty good, though the scratches still bothered me that it was old – 10 years old! Aurora formed, an idea of mine to rename after only one event, it was a good idea!!!
Thing is, it would take me forever to mention and tell all about the love for my 1976 Gibson Les Paul 'Deluxe' Cherry Sunburst, the advice is not to get it refurbished up and re-fretted, no, the advice is to use it as and when, as an antique, apparently 42 came into the UK in 1976, and also apparently Jimmy Page and Pete Townshend got hold of a number, hey I've also got hold of one!!!
This instrument is complete Art in the fullest of meaning – it is complete. If you need more 'Umph' then it must be a Les Paul and a Marshall.
As you can hear, the sound travelling through those mini-humbuckers is incredibly sweet.  One of the main reasons why I – and so many other musicians, Jimmy Page, Slash, Gary Moore (Rest in Peace), Pete Townshend (until they got to heavy for his big shoulders!), Keith Richards to name but a few – choose the Les Paul is due to the good use of the toggle switch.  Switching through the pick-ups not only allows the tone changing but to control distortion without having to use a mass of foot pedals.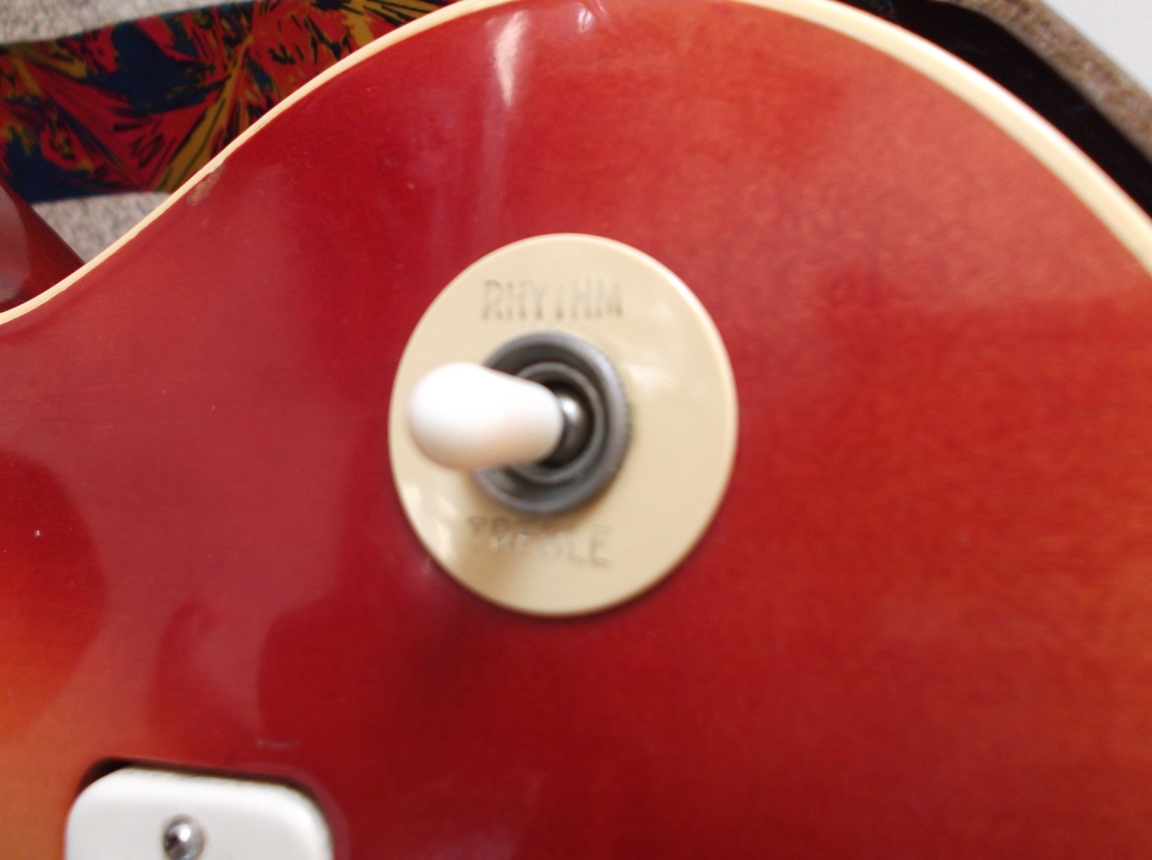 When you viewed the video you can see me giving examples of how to turn the volume down on maybe the rhythm pick-up at the neck (fret board), this allows some nice gentle and even clear tones, and not forgetting the distortion is turned well up within the amp.  Allowing control of the pick-ups like that means at a flick of the toggle switch you instantly add some gain, still not full on as now you are using both pick-ups, treble turned very low and rhythm turn high but not fullest high.  What happens now by using both pick-ups is some strong chord playing.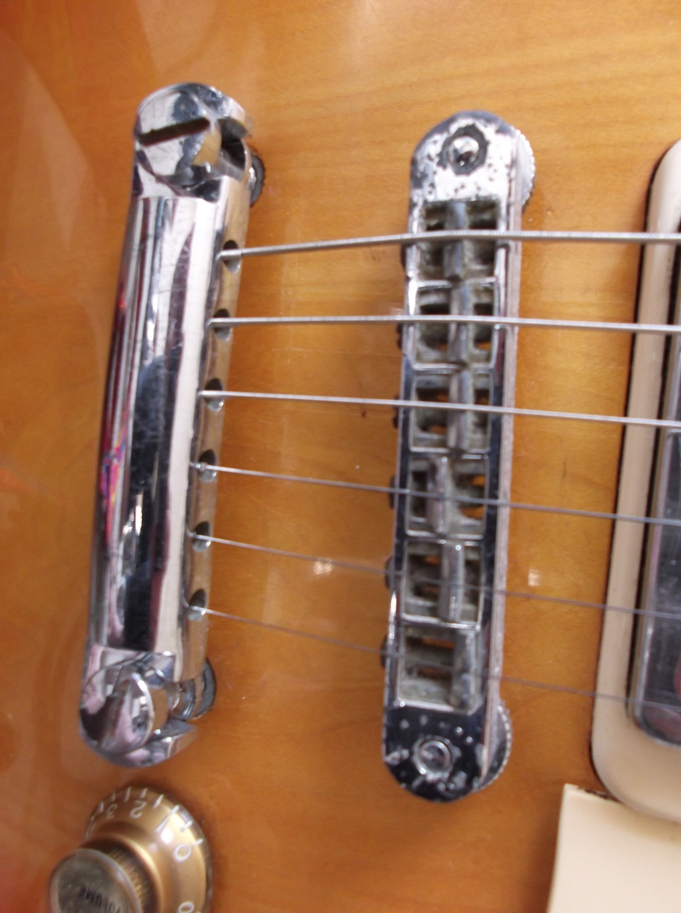 Within one song a band might vary from quiet, to some strong chords to power chords and solo, now we have the strong chords – but you can also play some riffs now as the gain will sound through – with both pick-ups doing there job, at the flick of the toggle all the energy is now transferred to the treble pick-up, at this stage the tone dial is actually set about half way, similar to the treble volume.  But the transformation from both pick-ups to solely the treble pick-up is immense; you can hear that in the video, shear awesome.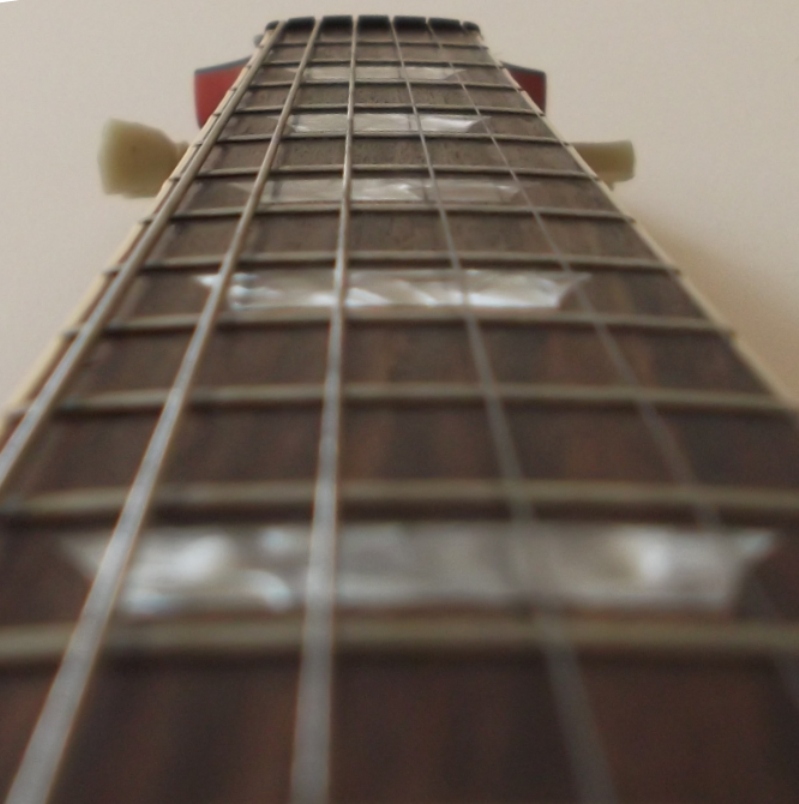 Now we are set for the power chords of playing, complemented with the Marshall amp this is truly – in guitarist's terms – pure 'umph' but there's more!  Controls set like this has given such gain increase you can play the solo as that set is left, but no, we can still turn the treble dial up more, turning up to full gives the fullest distortion effect and completely ready for a solo, if the song has a solo – well what do lead guitarists do!  A part from wanting to be a biological research scientist – yes Jimmy Page is on film with his old skiffle band and the interviewer asks "Jimmy, what would you like to do when you leave school? 'Be a biological research scientist sir.'" So in my book Jimmy Page is a failure…  And my hero!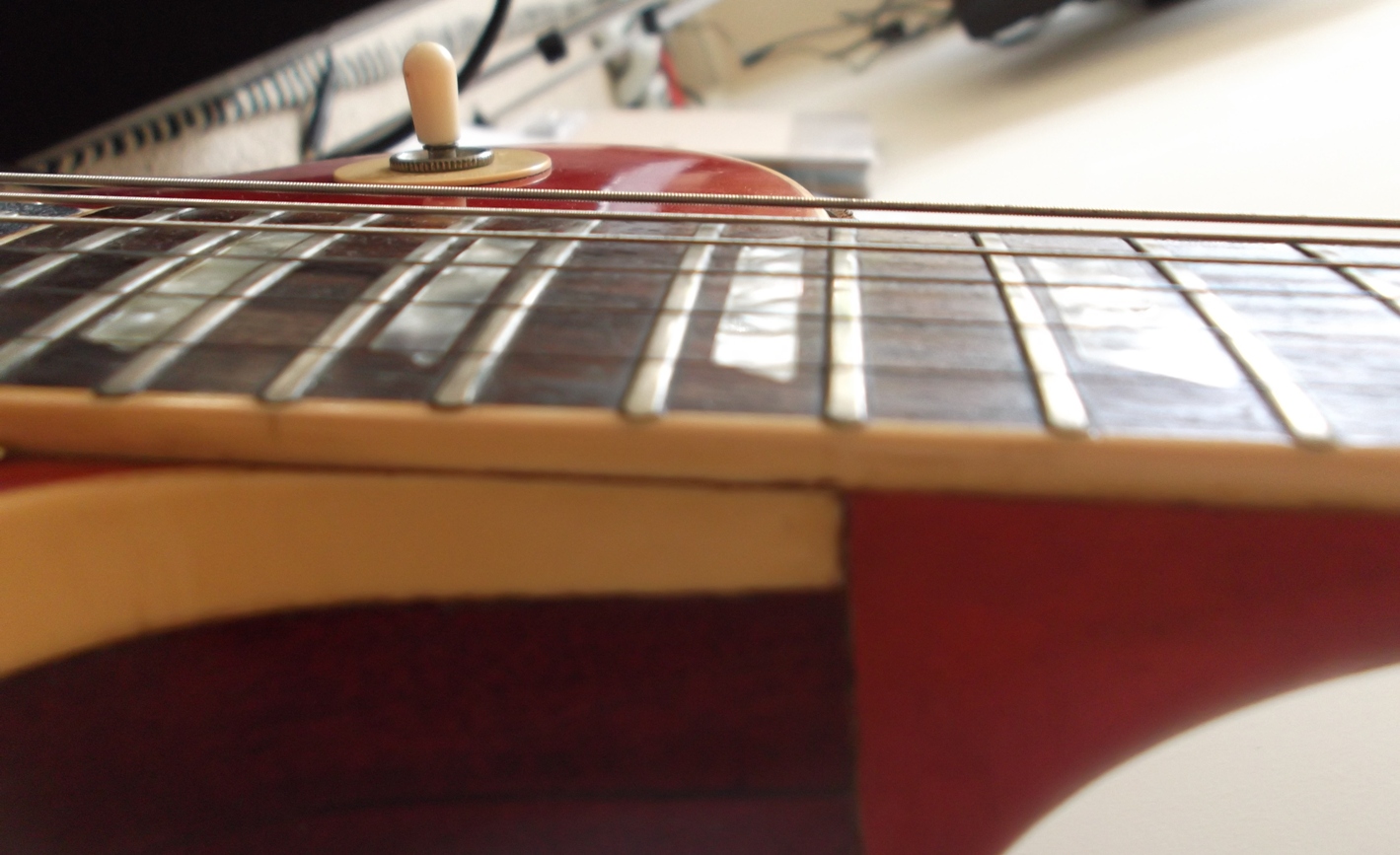 Something that can also be mentioned, Gibson allows Epiphone to manufacture Les Paul guitars with exactly same dimensions but at way lower prices.
Gibson
The Gibson Les Paul is a heavy instrument, hence Pete Townshend stopped using them!  A Les Paul Standard weigh's in at around nine pounds, some of the older Les Paul's weigh in at around 11 pounds!  Gibson are starting to use some lighter materials but I believe weight is best, certainly for that marshall complemented sustain.
Epiphone
The Epiphone Les Paul is a fantastic copy, and the only other manufacturers that Gibson allows to use with all the exact dimensions.  Obviously the weight, materials, hardware, and electrics are not the same standard as the Gibson but you can rest assure the sound is fantastic.  Places of manufacture vary and are production line manufactured.