Tell you what, Friday night jam at the Copper Beech in Baildon was completly great and to meet up again my old band Somerset Avenue's singer Paul G and the drummer Matt… had a great night, enjoyed getting up and doing some songs on my acoustic and helping out with some singing-Hmmm my dancing might have been suspect!  Get it on and Wishing Well soon guys eh!
After the jam we went for food and a couple of guys were asleep!
Stayed in Sat night and then Sunday over to Martins and an art exhibition at the Admiral Lord Rodney, was very unsure what to expect but a great timewas had and i thank Zara for allowing me to use her guitar for about a 30min set, also thank folks for the great feedback.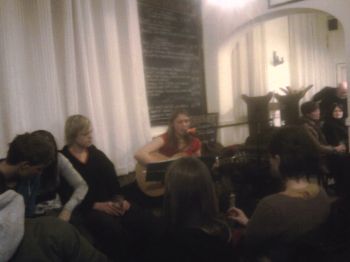 3 jams in a week for me and very good feedback from all-this I really have got to develope and get on with it!!!